Whitecap's self-governance processes has three main focus areas:
Negotiating a Self-Government Agreement

Drafting a Whitecap Dakota Constitution

Pursuing Reconciliation with the Government of Canada
Our staff works closely in consultation with Chief and Council, the Self-Government Advisory Committee, Elders and community members to ensure that these projects are sensitive to Dakota perspectives, culture and customs.
Self-Government Negotiations
Whitecap began the process of self-governance on April 27, 2009, when the community gave its mandate to Chief and Council to begin the process of getting out from under the Indian Act. Since then, negotiations have taken place between the Government of Canada and Whitecap Dakota First Nation to negotiate terms of the self-government agreement. The primary objective of the self-government initiative is to have WDFN recognized as a self-governing First Nation alongside federal and provincial governments and restore the balance of power to Whitecap Dakota First Nation. Self-governance allows communities to shape their social and economic well-being. Under self-government, bands develop and enforce their own laws regarding education, culture, finance, and lands. The Minister of Indigenous Affairs will no longer decide which laws could be passed, or which priorities are important. The community would become the ultimate authority over its own affairs in almost all of the sections of the Indian Act. Our governance structure will be developed by our members through a community constitution and our government will be accountable to our own members
Status of Negotiations
In 2017, Whitecap Dakota First Nation Council and the Government of Canada signed the Governance Agreement- in- Principle (GAIP). The GAIP is the second of four steps along the path to self-governance. It lays out a new governance structure for Whitecap Dakota First Nation that will replace the Indian Act, which gives First Nations only limited control over their own affairs.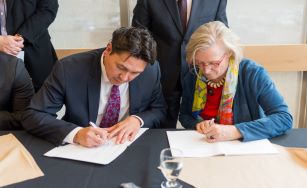 The WDFN Agreement-in-Principle, developed after consultation with the community, outlines how WDFN governance will be structured, and what law-making powers it will have. In short, it ensures that WDFN itself has the power and the jurisdiction to make its own decisions on matters affecting the community. The Agreement-in-Principle has set the stage to strengthen WDFN's ability to promote and protect its own culture, language, and history, and continue to develop its economic successes.
Signing the Agreement-in-Principle committed the Government of Canada and WDFN to working towards the Final Agreement together, with a target date of 2021 to bring the Final Agreement to a community vote. The GAIP is an important step in this process, as it lays out the elements that will form the Final Agreement. Work on the Final Agreement will include settling on fiscal arrangements that support sustainable self-governance Currently, work is underway to complete the Final Agreement to bring forward for a community vote in 2021. Community consultation and engagement is a key focus area for WDFN self-government department at this time to ensure members are informed and up to date on the negotiation process.
WDFN Self-Government Timeline
WDFN Members will ratify the Final Agreement in late 2021 through a community referendum.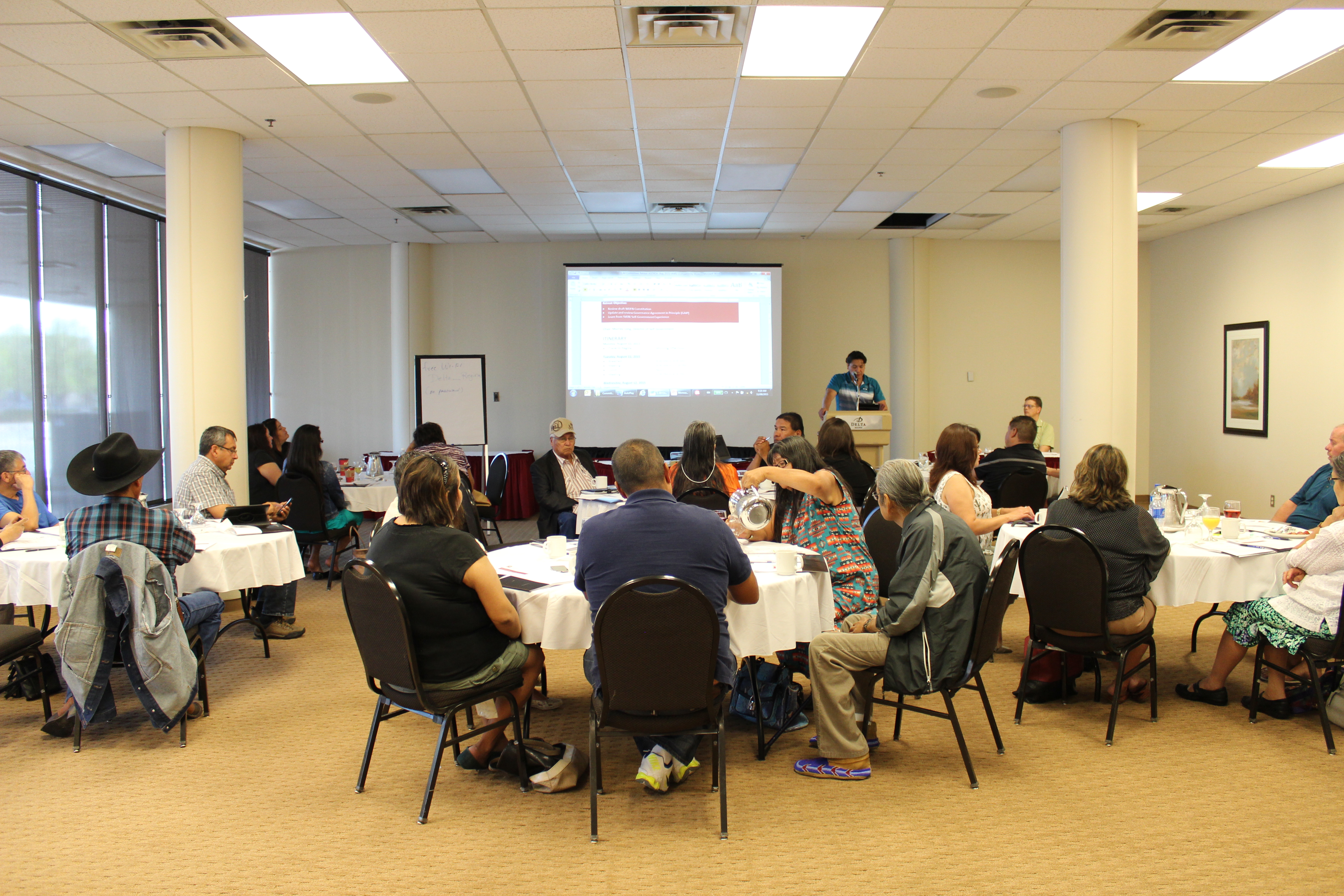 What is Self-Government?
Unless they have negotiated alternate self-government arrangements, most First Nations are currently governed by the Indian Act. The Indian Act establishes a limited and dependent form of local administration that is overseen by a federal Minister and does not take into account the specific circumstances of the community. Under the Indian Act, Band Councils are primarily accountable to the Minister of Aboriginal Affairs and Northern Development, rather than to their own community members.

Self-government brings First Nations out from under the Indian Act. It is about First Nations taking greater control over and making their own decisions about matters that affect their communities within the Canadian constitutional framework. Self-governing First Nations make laws and policies and exercise decision-making power in a broad range of matters internal to their communities and integral to their cultures and traditions.

While self-government arrangements are intended to replace the Indian Act's outdated governance and economic provisions, at the individual level, Whitecap Dakota First Nation members will continue to be recognized and treated as Status Indians under the Act. Self-government agreements ensure that the Canadian Charter of Rights and Freedoms, the Canadian Human Rights Act and other laws of general application such as the Criminal Code continue to apply to protect the interests of all residents on First Nation land.

Self-government agreements address the structure and accountability of First Nation governments, their law-making powers, financial arrangements and their responsibilities for providing programs and services to their members. Fostering good government and strong accountability in First Nation
Why Self-Governance?
• To negotiate the terms of a more respectful and modern government-to-government relationship
• To establish a new legal framework for First Nation governance that replaces the Indian Act.
• To create healthy, self-sufficient communities.
• Integration into local, regional, and national economies.
• Reconciliation of the Crown and First Nations.
How are Members being Engaged in the Process?
Transparency and engagement on the process is ensured through regular communications and consultation with WDFN Elders and Members. Regular communication occurs with Whitecap members through the community newsletter, Facebook, mailouts and meetings. In addition, the Self-Government Advisory Committee (SGAC) is made up of six community members who have interest in influencing the negotiation process. These members meet regularly to discuss important milestones in negotiations as well as bring forward any concerns or ideas members may have.
Before a Final Agreement can be passed, WDFN Members must vote on the agreement. We anticipate the community referendum will take place in late 2021.