On behalf of Councillor Frank Royal, Councillor Dwayne Eagle, Whitecap Dakota First Nation Membership and Elders, we congratulate Chief Darcy Bear on 30 years of service to our nation.
On behalf of Council, Whitecap Dakota First Nation Membership, Elders, and staff, we congratulate Chief Darcy Bear on 30 years of service to the Whitecap Dakota First Nation (WDFN).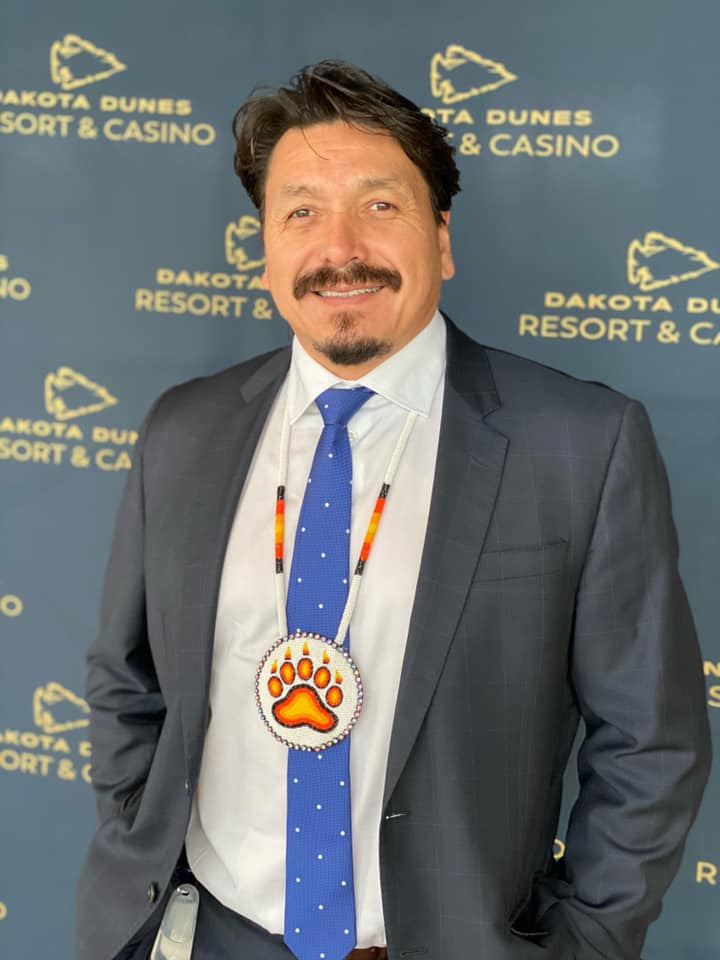 On November 29, 1991, Chief Bear was elected to Council at the age of 23. Three years later, he became Chief of the Whitecap Dakota First Nation. Since being elected to serve his nation, Chief Bear has dedicated himself to the betterment of his community. During his time in office, he has been instrumental in advancing the growth of Whitecap Dakota, and the region, by creating and implementing many economic development and infrastructure projects and leading the community through substantial growth. He fostered a partnership with Saskatoon Public Schools to ensure the best education programming possible, supplemented now by a growing Dakota Language program, for Whitecap's children and families. As Whitecap's leader, Chief Bear has also worked to bring greater fiscal accountability, transparency, and good governance to his community.
Throughout his time as leader of WDFN, Chief Bear has been recognized for his many achievements. Most notably, in 2020, Chief Bear was awarded the Order of Canada, one of Canada's highest honours, for his visionary leadership and for creating economic and social opportunities for the region. He has also received numerous awards including the Saskatchewan Order of Merit in 2011, the Diamond Jubilee Medal in 2012, and the Canadian Council for Aboriginal Business Hall of Lifetime Achievement award in 2016, and an honourary Doctorate of Laws Degree from the University of Saskatchewan.
Chief Bear has always emphasized that the successes of Whitecap are the result of collective effort. The constant support of Whitecap's Elders and community members, combined with the dedication of his Council, Executive Team, staff and partners have been integral to making Chief Bear's nation-building vision happen.
Chief Bear and his community developed and adopted a self-governing Land Code in 2004 to open Whitecap's doors to the business community and enable Whitecap to take its rightful place in the Canadian economy. To date, there has been approximately $160 million in capital investment in the community. Chief Bear advocated to federal and provincial governments for First Nations participation as an equal partner in the Investing in Canada Infrastructure Program, leading to the program becoming available to all First Nations. For Whitecap, it has leveraged water and sewer infrastructure expansion, business park development and installation of high speed fibre optics throughout the community. All of this now supports the newly constructed Dakota Dunes Hotel and is in place for future projects such as the Dakota Springs Spa and resort residential development.
Community and Economic Development Projects under Chief's Leadership
Community Water and Sewer Infrastructure
Opening of New Elementary School
Financial Transfer Agreement with INAC
Whitecap Fire Hall
Waste Transfer Station and Waste Collection Program
Community Approval of WDFN Land Code
Whitecap Trail Gas Bar, Dakota Dunes Golf Links, Dakota Dunes Casino and Dakota Dunes Hotel
Commercial Water Treatment Plant
FN GST Tax Collection Agreement with Canada
Liquor Consumption Tax Agreement with SK
Chief Whitecap and John Lake Statue in Saskatoon
New Health Centre; becomes provincial Primary Care Site
Completion of Chief Whitecap Trail Tourism Corridor
Construction of over 130 Housing Units
Sask Housing Authority Apartment Project
Regional Education Authority with Saskatoon Public Schools
Investments in Chief Whitecap School in Saskatoon
Early Learning Centre and School Expansion
WDFN-SK-Canada Infrastructure Expansion Project
Signing of Self-Governance Agreement-in-Principle
Signing of Framework Agreement for Dakota Treaty
SaskTel Fibre Project (Investing in Canada Infrastructure Program)
The provincial government relied on Chief Bears governance experience at the board tables of SaskTel and SaskPower. He currently chairs the SaskPower board and also chairs the Saskatchewan Indian Institute of Technology board. Further, he is a longstanding member of the boards of the Saskatchewan Indian Gaming Authority and Peace Hills Trust, the Saskatoon Tribal Council and currently serves as chair of the Whitecap Development Corporation. In past years, Chief Bear served as chair of both the 1997 Saskatchewan Indian Summer Games and the 2000 Saskatchewan Indian Summer Games.
Chief Bear has dedicated nearly half of his life to his community since becoming a leader. He has been innovative in his approach to business development, community development and community building initiatives. After 30 years of service and leadership, his record of building partnerships to generate economic wealth and enhance programs and services for Whitecap's members is an example of best practices for First Nations throughout Canada.
We thank Chief Bear for his years of service and dedication to our community, to the region and the country.